Do you hear water running in the bathroom when no one is there? Has your water bill gone up unexpectedly?
One issue we frequently find on home inspections in the Phoenix / Scottsdale area is bad toilet flappers or toilets that run when not in use.
The following video will assist you in determining if the toilet flapper is the source of the problem.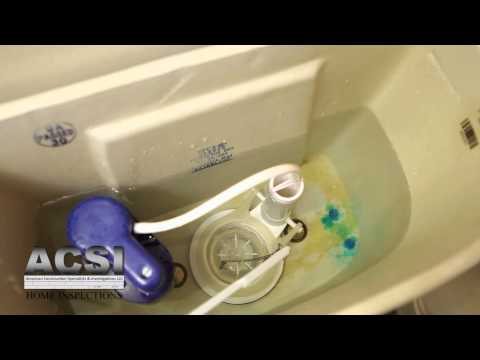 If you have any questions on how to maintain your property please feel free to check out our home maintenance checklist
 If you would like to have a home inspection, even if it is just to find out what maintenance needs to be performed , please call us at 480-636-7400
Home Maintenance Inspection
In the course of living in a home, many home owners often overlook, or else become accustomed to seeing, deferred maintenance issues within their own home. Also, some maintenance issues aren't readily seen except by a trained professional and home owners often aren't even aware that they exist. While some of these maintenance issues may be minor and inconsequential, many seemingly minor issues (like deteriorated caulk around windows), may lead to more serious problems (such as wood rot within walls). Some problems, such as bad electrical wiring or deteriorated furnace vents, are safety concerns and potentially life threatening.
We can look at your entire home with trained, critical eyes and help you become aware of all of the maintenance issues regarding your home, from top to bottom, inside and out. He will also help you set priorities and make recommendations for repairs.
Let your inspector spot the problems (new and old), before you commit to so major an investment and decision. A trained professional has seen it all and will provide invaluable help in turning you into a knowledgeable consumer. Home owners can identify problems in the making and take preventive measures to avoid costly repairs. Sellers can understand conditions the buyer's inspector may point out and put the property in better selling condition by making repairs.